Trail Blade ATS
SELECT SIZE BELOW TO SEE ACTUAL TIRE IMAGE:
*Pictured tire may not be representative of all size configurations.
The Trail Blade ATS is the second tire in Atturo's new Trail Blade Sport series. The Trail Blade ATS is Atturo's new All-Terrain tire focused on aftermarket applications and features a sidewall pattern inspired by Quartermaster Knives that's easily the most aggressive available for any All-Terrain type tire. Large tread blocks, deep sipes, long center rib, and wide channels provide a stylishly aggressive and functional tire that is ready for action on asphalt or off road!
technology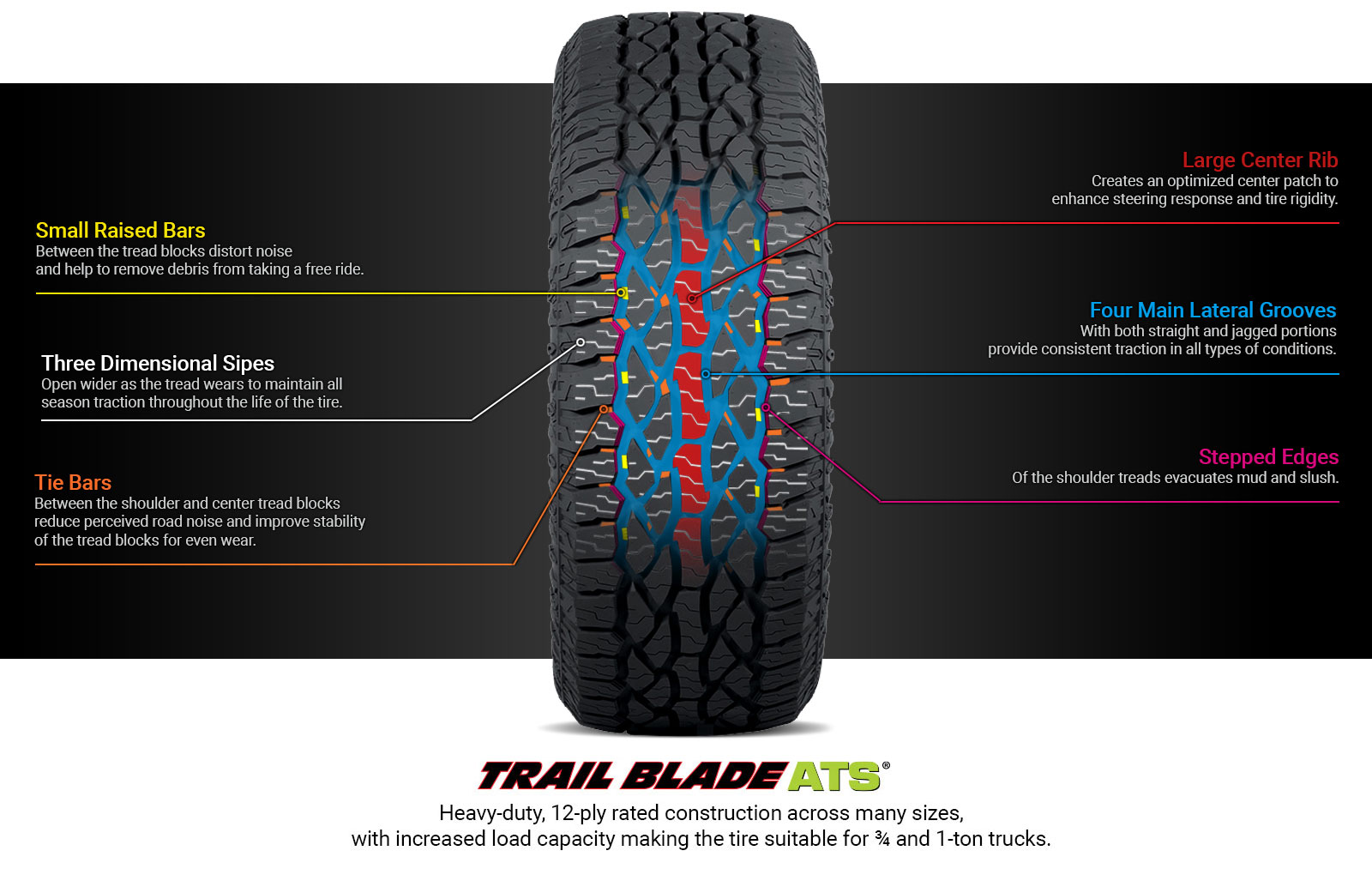 design
Trail Blade ATS Design Features:
Unique tread pattern optimized for digging traction and steady handling on all surfaces

Aggressive sidewall modeled after the Quartermaster QSE-5 knife, one of the most aggressive sidewalls offered on an All-Terrain tire

Large tread blocks with multiple deep sipes provide superior traction and handling

Wet performance is achieved by wide channels between tread blocks, flushing water from the contact patch

Double tread blocks provide digging traction on any terrain, even asphalt

Stabilizing blocks link tread together to maintain rigidity at highway speeds, as well as rocky or hard-pack surfaces

Unique multi-bevels and alternate shaped shoulder block distort noise and provide a quiet ride

Select sizes offered in heavy-duty 12 ply construction for 2500/3500 series trucks

Tread Life
The Trail Blade ATS is built with a deep tread up to 16/32nds, providing it with superior traction on all surfaces ranging from asphalt to mud or gravel. A 12 ply construction (on select sizes) & durable tread compound means the ATS can withstand the wear and tear that ¾ and 1-ton trucks demand out of a tire. The tread area features a combination of deep treads and siping, giving you gripping power in every kind of weather environment. Multi beveled treads mean you don't need to sacrifice off-road performance for a quiet commute. Thanks to the durable tread compound and heavy-duty design of this new All-Terrain Sport tire we are excited to offer our 50,000 mile tread life warranty on the Trail Blade ATS. This is the same mileage warranty offered on our standard A/T tire, proving that this is a tire that doesn't just talk the talk, it walks (or rolls) the walk too. Whether you are looking for a heavy-duty tire for your work truck, or want to step up the traction in your family SUV, the ATS can provide biting traction and a sharp look for you!