AZ850
SELECT SIZE BELOW TO SEE ACTUAL TIRE IMAGE:
*Pictured tire may not be representative of all size configurations.

The AZ850 is a performance tire designed for the modern SUV, crossover, and sport truck, – as well as muscle cars. Engineered to take advantage of the increased power and handling ability of these vehicles, the AZ850 asymmetric tread design features different inside and outside contours to achieve optimum balance across the tread face. This evenly distributes the pressure of the contact surface to enhance comfort and handling.

The unique compound and tread of the AZ850 were engineered for contemporary performance utility vehicles and muscle cars. The result is a rubber compound that helps reduce rolling resistance, which in turn allows the tire to run cooler at high speeds. High-tensile steel belts and jointless nylon bands increase also stability for secure braking, handling, and durability.
technology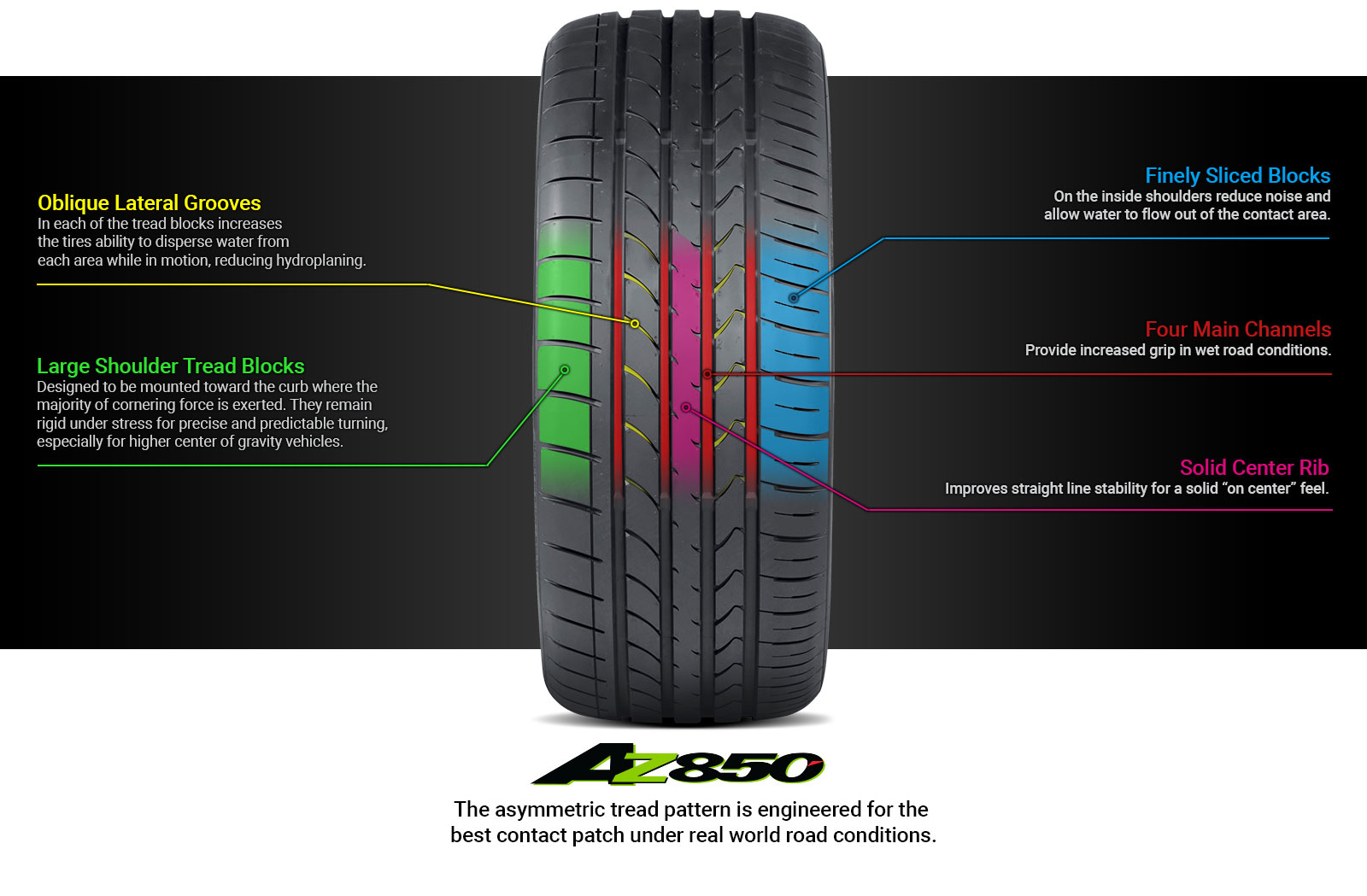 design
AZ850 Design Features:
The large outer tread block is designed with a rigid and strengthened block to maintain integrity under hard cornering.

The finely sliced inner tread block is designed to reduce noise and allow dispersion of water.

Four main grooves designed to increase the wet grip.

Center rib improves straight-line driving; Also enhancing directional stability.

Oblique lateral grooves increase water dispersion capacity in order to avoid hydroplaning.
AZ850 Run Flat Model
The AZ850 is also available as a Run Flat model. The RFT sizes are engineered to allow for up to 50 miles of driving at 50 MPH (80 km at 80 KPH) with zero air pressure. The Run Flat AZ850 offers an affordable option to the overpriced original equipment tires found on many performance SUVs and muscle cars without compromising on performance or quality. The AZ850 RFT also offers an enhanced safety option to those drivers who are looking for the security of a run flat tire, even if it was not original on their vehicle.