Trail Blade A/T
SELECT SIZE BELOW TO SEE ACTUAL TIRE IMAGE:
*Pictured tire may not be representative of all size configurations.

The Trail Blade® A/T is produced in both metric and LT rated sizes for a variety of trucks. The LT rated sizes utilize a heavy duty carcass for the hard duty work trucks they are built for. This tire is for a hardworking and ready-to-play driver who demands strength, durability, and all-terrain performance.
technology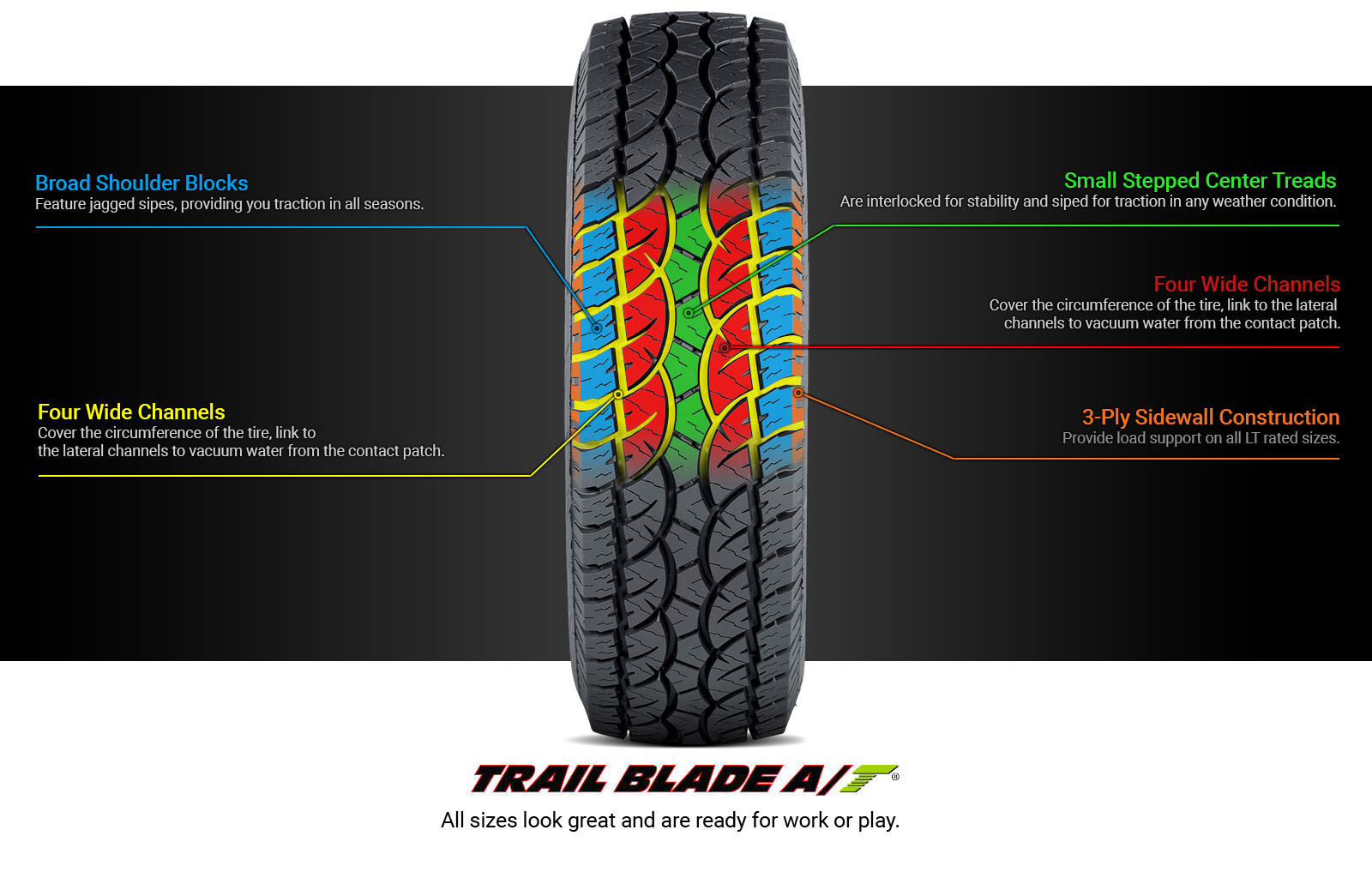 design
Trail Blade A/T Design Features:
Produced with Hydrocarbon Free (Clean) Oil, meeting the EU REACH level of compliance.

Multiple sipes in center tread blocks for all terrain traction.

Large shoulder blocks for improved handling and steering response on road.

Arched and segmented stone throwers molded between shoulder treads to help eject whatever you just crushed.

Four channel circumference grooves aids in wet grip.

Rim Protector provides extra protection for rims from curbs.
Tread Life
The Trail Blade A/T is built with a deep tread depth up to 15/32nds to provide for traction in all surfaces and long tread life. The large shoulder blocks provide enhanced steering response and overall handling. The tread area features four deep grooves and multiple sipes in the tread blocks for excellent wet traction and competence in snow and mud.

The Atturo Tire Trail Blade A/T provides a durable tread compound formulated for long life with deep sipes for all weather performance. The Trail Blade A/T is constructed for truck owners who demand a strong tire with versatile traction capabilities but at an affordable price level. Trail Blade A/T offers true off-road capability with natural highway convenience.